Sick of your bathroom sink clogging with hair and other debris? Look no further than these top selling Bathroom Sink Strainers that have made many homeowner's lives easier. These strainers will take away the headache of clogs and damaged pipes, and will eliminate the need for a plumber in your life. 
When shopping for a bathroom sink basket strainer, it's important to consider the size of your sink drain and the type of debris that commonly clogs it. Some strainers are more effective at collecting smaller particles, while others are better for larger debris.
Here are our top picks for Best Bathroom Sink Basket Strainers:
SinkShroom Ultra Revolutionary Bathroom Sink Drain Protector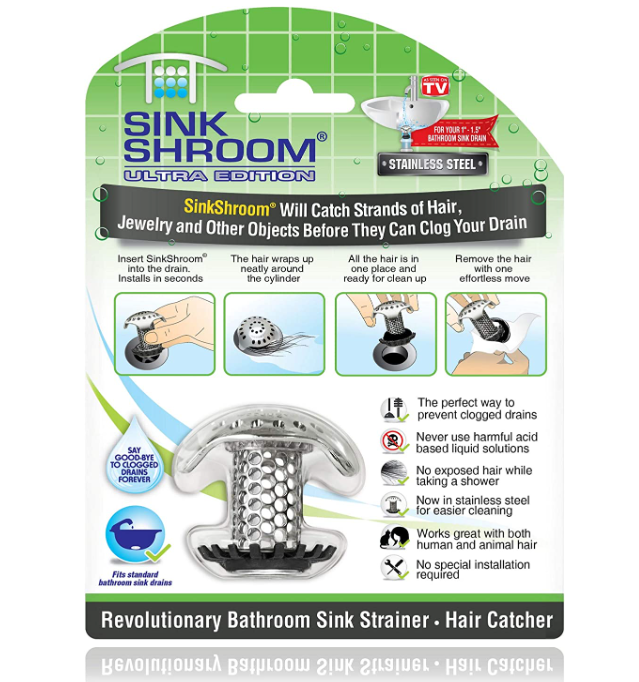 With over 10,000 reviews and a 4.7 Star rating, the SinkShroom Ultra has reached the #1 Best Seller in its category on Amazon. The simple, yet sleek design allows it to seamlessly fit your bathroom aesthetic as it is made of stainless steel. This SinkShroom comes with multiple sized adaptors ranging from 1" to 1.5", so that it can be compatible with almost all sink drains.
Unlike regular plugs that go over the drain, SinkShroom fits inside, neatly collecting hair around it. When it's time to cleanup, simply wipe the bottom of the SinkShroom off. This sink strainer will last the test of time and is one of the best options on the market. The TubShroom family of products protect millions of drains worldwide so you know you will be getting quality with the SinkShroom Ultra. 
SinkShroom Chrome Black Edition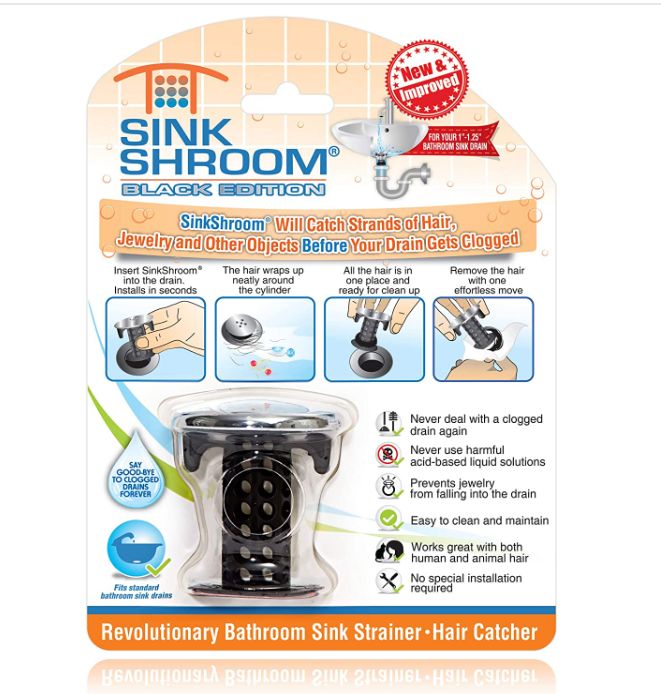 Another sink strainer from the TubShroom family is the SinkShroom black. This version is a bathroom hair stopper that also fits snug inside your sink drain, but instead of a stainless steel construction, it is made of silicone and has a chrome top finish. The color scheme of this SinkShroom also fits with most bathroom aesthetics. 
The cylindrical design of the SinkShroom that allows water to pass through while collecting hair at the base. The hair can then be easily disposed of by removing the strainer and wiping the bottom with a wipe or tissue paper. SinkShroom is designed to fit most standard bathroom sink drains and is easy to install. It is also resistant to rust and corrosion, making it a durable option for preventing clogs in your sink.
Hilltop Basket Sink Strainer
The HillTop Sink Strainer is made of a stainless steel construction and is structured as a basket to sit snug in your drain. It is a slightly unconventional look but it is cost effective and gets the job done. This sink strainer boasts a multi-utility use as it can be used for bathroom, utility, slop, laundry, RV and lavatory sink. 
The dimensions of the strainer are 2.25" Top diameter, 1" Basket width. The HillTop strainers are made of quality rust-resistant, durable and reliable stainless steel. It is perfect for small sinks for daily usage for long lasting protection against drainage clogging. Water continually flows and the basket is able to catch any hair or debris that otherwise might go down the drain. Retail on this item is under $10 and it comes with 2 units, which is a great deal!
MR.SIGA Bathroom Sink Strainer
The Mr.Siga Bathroom Sink Strainer is very similar to the HillTop strainer but to us it was more durable and sturdy. This sink strainer is very cost effective as it comes with 3 units at a price of $9.99. MR.SIGA sink strainer is compatible for most standard bathroom sinks as well as laundry lavatory sinks and utility sinks, it is made of stainless steel durable construction which is built to last.
The strainer fits most standard bathroom sink drains and is easy to install. It is also resistant to rust and corrosion, making it a durable option for preventing clogs in your sink. Some customers have reported that the strainer is effective at collecting hair and preventing clogs, but that the basket may need to be emptied more frequently than with other types of strainers.
HairClaw Disposable 20 Pack | Bathtub Hair Catcher Strainer

 
If you are looking for a disposable sink strainer, the HairClaw Sink Strainer is for you. It comes with 20 packs of disposable sink strainers and has a mushroom design with rugged edges so that it can catch most hair that falls in the drain. While there will be increased garbage disposals with this item, the company does claim to make their products with ecofriendly bioplastic made from renewable plants. 
The downside to this sink strainer is that you will constantly need to change swap it out every few weeks, which may be a headache to some. However, this strainer currently sits at 4.7 star rating with many customers having positive remarks about the product. 
Which is the Best Sink Strainer for you?
We believe that the SinkShroom Ultra is the best solution to sink hair clogs as its robust and unique design makes it very easy to use. There is nothing really like it on the market. If you are looking for the cost effective option, you can purchase 3 Mr.Siga for $9.99 which is also a great deal. 
More Top Rated Drain Protection Articles:
Best Bathtub Shower Drain Protector Strainers to Prevent Clogs
Best Kitchen Sink Strainers to Prevent Clogs
Best Toilet Plungers to Clear Clogs
Best Liquid Drain Cleaners to Clear Clogged Drains
Best Drain Snakes to Clear Clogged Drains
Best Tub and Sink Drain Stopper Replacements
Best Stand-up Shower Stall Hair Catchers to Prevent Clogs
Disclosure: Links in this article are affiliate links to Amazon products. As an Amazon Associate, we earn from qualifying purchases.